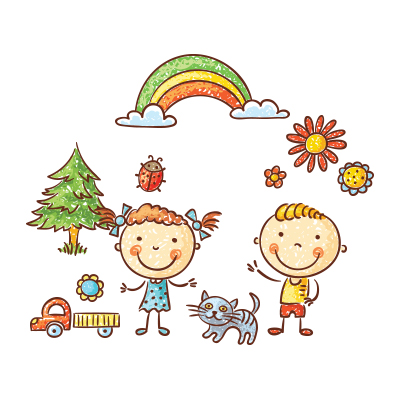 Our Facilities
Our Nursery is housed in a safe and secure environment featuring light spacious rooms, which create a warm and friendly atmosphere.
Our Baby Rooms
The goal of our baby room is to foster the development of trust and to assist in the natural development of the young child's personality. We know that trust develops in an environment where people respond attentively to the child's needs to be loved and accepted.
At Little Tulips Day Nursery, we provide individualised learning activities that are appropriate for even the earliest stage of child development. Our materials are simple and carefully chosen to appeal to children's developmental needs.
We offer a non-mobile room for the younger babies in an environment they can begin to move around in. They have plenty of opportunities to pull themselves up on to objects and plenty of space for when they begin to take their first steps.
We offer variety of healthy meals and encourage baby-led weaning, keeping in mind the babies sleep and bottles home routine.
Our older mobile baby room offers a spacious, airy play room that has a variety of activities for them to explore. Babies are encouraged to explore a range of messy play and are given lots of new learning experiences.
Our Toddlers
Our toddler room offers a variety of learning opportunities which cater to all seven areas of the EYFS.
The carefully planned and meticulously prepared class environment encourages the toddlers to form friendship with other children and communicate well with others. Our staff spend time with individual key children supporting their developing needs through activities and play.
The environment at Little Tulips Day Nursery helps the child develop a feeling of support, security and self-esteem. Our children are encouraged when starting toilet training and we work closely with parents.
Our Pre-School
At Little Tulips Day Nursery, the pre-school environment cultivates the child's own natural desire to learn. In pre-school there is a more structured routine that supports transition to school. More group activities are prepared to promote longer attention spans.
We guide each child to a "do it by myself" attitude, thus supporting the child's basic need for independence. We help children believe that they are capable, competent and confident. We create a positive attitude towards learning that lasts a lifetime.
We have strong connections with the local schools to support the children as they move forward to school. Schools are invited to meet the children who are moving to them to ensure a smoother transition.
Outdoor Play Area
Little Tulips Day Nursery provides a safe and secure outdoor area.  Our large dynamic area promotes and encourages learning and development in children of all ages. Our outdoor environment has unique characteristics and features that offer more freedom and space to move and inspire different movement from that indoors.
We offer a flower and vegetable patch where children are encouraged to plant their seeds and watch them grow. We encourage physical development by offering bikes and stepping stones. A quiet reading den allows children space to relax while our play garden features a mud kitchen to explore different textures.
Dedicated outdoor play areas for every age group are provided to support learning.  We have a separate baby garden, in addition to our main play area.
"We have been so impressed and delighted with how much our daughter has come on with her development, most of all she has amazing fun and has made lots of friends. The staff are so caring and approachable."
"My daughter has settled in so well! She loves nursery so much, she'd come in at weekends if she could. We are really impressed with the staff and her development. Thank you so much."
Sed ut perspiciatis unde omnis iste natus error sit voluptatem accusantium doloremque laudantium, totam rem aperiam, eaque ipsa quae ab illo inventore veritatis.